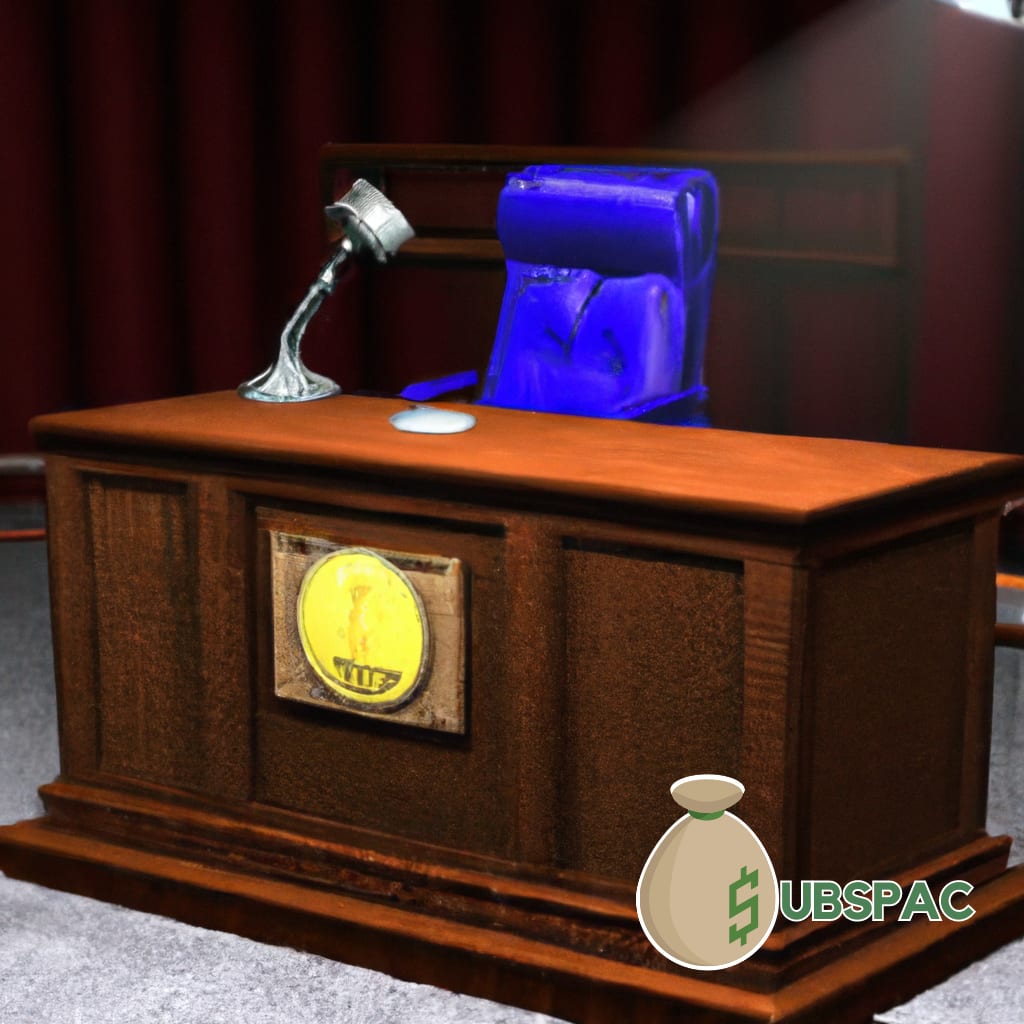 TLDR:
– FinServ Holdings LLC is facing legal accusations regarding breach of fiduciary duties during a $883 million take-public deal with Katapult Holdings Inc.
– The ruling in this case has the potential to set a precedent for future corporate behavior and could significantly impact FinServ's reputation and investor confidence.
Well folks, hold on to your hats! The world of business has once again proven that it's about as predictable as a game of bingo at a squirrel convention. A legal showdown is brewing and it's starring our dear blank-check company, FinServ Holdings LLC. This esteemed financier is neck-deep in legal shenanigans, with some rather hefty accusations coming its way.
The Delaware Court of Chancery is currently the stage for this thrilling corporate opera. Accusations are flying that FinServ and its fearless leaders might have been a tad naughty during a hefty $883 million take-public deal with Katapult Holdings Inc. Apparently, fiduciary duties were treated with about as much respect as a vegan at a barbecue. But, hey, who hasn't spiced up their Friday night by potentially acting against the interests of shareholders?
The woman in the eye of this corporate storm is Vice Chancellor Katherine Carter. She's been given the task of sorting through this mess with the precision of a surgeon and the scrutiny of a mother-in-law. Her ruling? Some claims against FinServ are about as solid as a chocolate teapot, whilst others could stick around longer than an awkward silence at a family reunion.
The brains behind FinServ are accused of breaching fiduciary duties, which is corporate lingo for playing dirty. Fiduciary duties are a bit like the golden rules of kindergarten: play fair, share your toys, and don't punch your friends. Allegedly, FinServ's bigwigs might've forgotten those lessons, causing a bit of a kerfuffle with their shareholders.
The intriguing part of this corporate saga is the potential for a domino effect. This ruling might just give other CEOs a pause before they consider stepping outside the lines of corporate decency. And for the business world, which generally has the attention span of a goldfish when it comes to precedent-setting legal decisions, this is a big deal.
FinServ's top dogs now face the prospect of further litigation and, let's be honest, nobody wants to start their day with a lawsuit for breakfast. The weight of these allegations is likely heavier than their morning shot of espresso, but I'm sure they'll bring their A-game to the courtroom.
This case is going to be interesting to follow, kind of like watching a tightrope walker over a pit of crocodiles. The court's decision could become a scar or a medal on FinServ's reputation. The resulting perception and investor confidence could swing harder than a pendulum in an earthquake.
In conclusion, this is more than just another day at the office for FinServ Holdings LLC. It's a moment that could shake their trajectory like a martini in James Bond's hand. As for the rest of us, we'll keep our popcorn ready, eagerly waiting for the next act in this corporate drama. Let the games begin!